Contact Us

Sterling Maintenance, LLC
802 Grant Ave.
Grand Haven, MI 49417

Phone: 616 834-1255
Fax: 616 842-9507
Phone hours are: 7am to 7pm, Mon-Sat
Email: info@algae-roof.com


Call or email quote requests and or questions.

When emailing be sure to include the full street address. We site visit each location, take pictures if necessary, and return a written cost estimate to you. Often emailed the next day.


- V E R S A T I L E -

Our boom lift is up for many tasks...

Lifting, Lighting, Signs, Awnings, Flag Poles, Sail Boat Rigging, Roofing/ Chimney Issues,
Tree Trimming, Holiday Lighting/ Decorations, Aerial Photography, Rope Swings,
TV Antenna/ Ham Radio/ Satellite Dish/ Tower Work, Inspections and Documentation

- D I V E R S I F I E D -

We have knowledge and expertise in many areas.
In contrast, if there is something we can't do, you'll be the first to know...
but don't ever hesitate to call and ask.

Sterling Maintenance, LLC..........616 834-1255

---
Home | Before & After | Our Equipment | Contact Us | Realtors | Our Flyer

---

County's we service: Allegan County, MI., Barry County, MI., Berrian County, MI., Cass County, MI., Iona County, MI., Kalamazoo County, MI, Kent County, MI., Mason County, MI., Montcalm County, MI., Muskegon County, MI., Newaygo County, MI., Oceana County, MI., Ottawa County, MI., and VanBuren County, MI.

Tag Cloud: Algae Removal, Algae Cleaning, Asphalt Shingle Cleaning, Roof Wash, Roof Cleaning, Roof Algae, Roof Moss, Roof Mold, Roof Black Streaks, Roof Black Stains, Exterior House Cleaning, Shingle Cleaning, Tree Trimming, Black Streaks, Shampoo Roof, Roof Cleaners, West Michigan Roof Cleaning, West Michigan Roof Cleaners, Roof Cleaning Service, Roof Cleaning Contractor, Moss Removal, Moss Cleaning, Deck Cleaning.
Our cleaning process is also great on: Vinyl siding, Fences, Decks, Cedar Shakes, Brick, Concrete and Limestone.
Cleaning commercial signs, awnings, store fronts, and building exteriors.
---
We use only "Eco-Safe" environmentally friendly "Green" cleaners... will not harm plants or animals.
We employ the
"Soft Wash" method.... Safe for asphalt shingles.
High Pressure is NEVER used to clean a roof.
---
Serving ALL of West Michigan.
---
MEMBER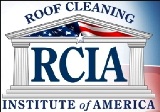 ARMA recommends cleaning your roof